It is not only for what we do that we are held responsible, but also for what we do not do .
Voltaire
(Philosopher of the Enlightenment)
Product quality control
Or :  " Inspect and be inspected, improve and be improved "
"Ugigrip, keep control"
"Keep control" is our mission statement. In our workshop we manufacture studs; on your tyres we offer safety
"Keep control" also describes our rigorous approach to control product quality and ensure that our studs meet your requirements.
To keep production under control, Ugigrip has procedures in place to control all steps of production, from the purchase of raw materials to shipment of the studs. All staff are involved in this process, to ensure that the required level of quality is achieved.
Our customers are also involved in our continuous improvement process through permanent exchanges (purchasing, R&D, production, quality, etc.) and any inspections and audits they may carry out, so that we can identify their real needs and to find effective solutions to meet these needs.
Inspections during and at the end of production
-  Inspections during production (pins, bodies, and complete studs)
-  Inspections of appearance, shape, dimensions
-  100% inspection of the stud assembly (mechanical or by camera)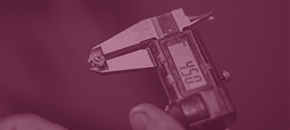 -  Inspection of batches at the end of production
-  Our inspection equipment: dimensional measurements, profile projectors, microscopes, force measurement tools, etc.
UGIGRIP issues inspection certificates, in accordance with your needs set out in your specifications.
Our certifications: ISO 9001 since 2001, ISO 14001 since 2004, AEO (Authorised Economic Operator) since 2016.
Ugigrip, French excellence